Hydraulic Spreaders
Hydraulic spreaders are hydraulic tools that have been designed to work with a small access gap or when working at height. With an impressive spreading force of 10000 psi at your fingertips, the system is simple to operate and reduces physical demand to a minimum.
How do hydraulic spreaders work?
The two arms of the spreader are separated or spread using hydraulic power. When they...
Showing 1-2 of 2 products
Relevance
Price (high-low)
Price (low-high)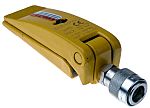 RS Stock No.: 311-1579
Brand: Enerpac
Manufacturers Part No.: WR5
Available in multiples of 1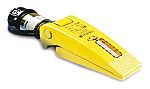 RS Stock No.: 311-1591
Brand: Enerpac
Manufacturers Part No.: WR15
Available in multiples of 1