Ultrasonic Cleaning Fluids
Ultrasonic cleaning fluids are used in conjunction with an ultrasonic cleaner. These types of cleaners typically enclose something within a chamber for the purpose of ultrasonic cleaning.
How do they work?
Working alongside the cleaner, the cleaning fluid will be dispensed into a chamber and helps with the ultrasound cleaning process that use ultrasound frequencies. The use of speci...
Showing 1-1 of 1 products
Relevance
Price (high-low)
Price (low-high)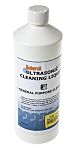 RS Stock No.: 745-7494
Brand: Ambersil
Manufacturers Part No.: 32112-AB
Available in multiples of 1